"The Future of Tourism" Interview Series

Disclaimer: The views and opinions expressed in the interviews are those of the interviewee and do not necessarily reflect the official policy, position or views of the Pacific Asia Travel Association (PATA) or any of its employees. The aim of the interviews is to assist with the rapid, robust and responsible rebuilding of the Asia Pacific travel industry.
The COVID-19 crisis has highlighted many threats facing biodiversity, living habitat and protected areas. The health of humans, animals and ecosystems are all interconnected. Thus, protected and conserved areas are key to maintaining healthy ecosystems and protecting diverse natural habitats and wildlife.
Tourism is recognized as an important driver of habitat protection as well as a source of revenue generation for protected areas and conservation work. The current Covid-19 crisis has provided us with clear evidence of how behavioral changes can really make an impact; thus, representing an opportunity for accelerating climate actions and habitat protection.
However, will the economic priorities outgrow the environmental concerns of government and businesses during this challenging time? How can recovery packages deliver on both economic and environmental goals?
PATA SSR spoke to Suwanna Gauntlett, the Founder and CEO of Wildlife Alliance to examine the impact of Covid-19 and the direct implications for the tourism industry regarding climate and habitat actions in a post Covid-19 world. Wildlife Alliance is the leader in direct protection of forests and wildlife in tropical Asia. Wildlife Alliance has also partnered with YAANA Ventures and Minor Group to secure an 18,000-hectare (44,500 acre) nature land concession within Botum Sakor National Park in the Cardamom Mountains, Cambodia. In 2017, this ecotourism venture initiated and opened the Cardamom Tented Camp to help provide the local people with a sustainable model of income generation. Parts of the revenues go to Wildlife Alliance to manage ranger protection within and around the nature concession.
Q: Hello Suwanna! Thank you so much for your time today. We are very excited to have you with PATA in this interview. To get started, would you mind introducing a bit about yourself and the work you're doing with the Wildlife Alliance, please?
Suwanna: Hello Trang! I'm very honored to be interviewed. I am Suwanna Gauntlett. I'm originally from San Francisco, and I have come to Cambodia as part of my nature conservation work. When I saw the scope of the devastating illegal wildlife trade in Cambodia, I knew I had to do something about it. And I came to live here permanently for the last 20 years including helping the government protect the largest remaining mainland rainforest called the Cardamom Rainforest Landscape. That's the work we do; we protect on the ground.
So, the Cardamom Tented Camp is one area of our work. It's in the south of the Cardamoms. We have also been protecting the middle and the north since 2001. We are protecting a total of 1,300,000 hectares or over 2.5 million acres. Traditionally, we have been supported by individuals and private foundations as well as governments including the European Union, USAID and US Fish and Wildlife Service. For tourism, the Cardamom Tented Camp is supported by Minor International Group and Yaana Ventures. The ranger protection that Wildlife Alliance is managing inside and around the nature concession is supported by Minor Group's Golden Triangle Asian Elephant Foundation. We are also managing the ranger protection for another property inside the Cardamom Rainforest Landscape, the Shinta Mani Wild eco-lodge; and when we say protecting, it's not just around the lodge. It's also a very large patrol quadrant where the rangers go overnight and patrol very vast areas of the rainforest to stop land grabbing. So, the Shinta Mini Wild ranger station is supported by the Bensley Collection. However, for the rest of the Cardamom Rainforest Landscape, which represents over a million hectares, we are now benefiting from our long years of efforts in developing carbon a REDD+ project, which sells the carbon of the Cardamom Rainforest to polluting industries in the West, mostly in Europe.
Q: We all know that right now, the COVID-19 crisis is affecting every single aspect of our life. So why is it important to prioritize habitat protection during the time of COVID-19 in your opinion?
Suwanna: I think it's more important than ever before to prioritize habitat protection in this time of COVID-19. We have had several pandemics, of which COVID-19 is the worst. And many people around the globe are now talking about the cause being the shrinking of the natural habitat of wild animals. And we have more and more contacts now between human populations and wild populations. This is unnatural and undesirable. We are not meant to have them as pets nor to eat them. This is a serious problem in Asia, and at Wildlife Alliance, we are fighting this. We are saving hundreds of wild animals from trafficking to wet markets every month. In about a year, we save an average of 4000 wild animals going to wet markets, and we're talking about everything from bats to pangolins to small cats, carnivores, civets, snakes and turtles. This is extremely unhealthy. These animals are held in squalid conditions, top-on-top, close to each other in cages without food or water. And this is a time bomb for human health.
Q: So far, what are the biggest impacts of the COVID-19 crisis on your organization and your operations?
Suwanna: Our operations have not suffered from COVID-19. We are actually disappointed because we were hoping that because of COVID-19, the illegal wildlife trade would stop, that people would stop eating wildlife. We have consumers here. And we also have an enormous amount of exports, which are smuggled illegally through the borders. That has not stopped. Our rangers on the ground in the forest are not seeing a reduction in poaching, they're seeing an increase. More people are poaching wildlife, and it's going to the extreme that not only are we dismantling deadly snares and traps on the forest ground, we are now finding electrocution, metal lines going over one kilometer. So, all the animals going to drink in the river at night are caught. It's even dangerous for humans. New types of home-made guns are coming out made with PVC plastic, with explosives, with gas cans. So COVID has not slowed down the illegal wildlife trade.
Q: When we look at the tourism industry, what are the different opportunities that the tourism industry can bring for fostering habitat protection actions?
Suwanna: Thank you for this question, because I think the tourism industry has a huge opportunity, and perhaps even responsibility for habitat protection. Thanks to tourism, tourists from all around the world have come to the Cardamom mountains that we are protecting and have demonstrated to the Cambodian government since 2004 that people care about nature, that people will come from countries far away such as Australia, New Zealand, South America, US, Europe to see the last untouched rainforest of Asia. They come and even stay three nights and three days. It's very heartwarming to see, especially the youth. They come backpacking, which is now called glamping. While they come to places like our Cardamom Tented Camp, they'll come to the community-based ecotourism place; they'll stay in tents at night under the stars. They really care and do great postings on social media. So that's one area where I think the tourism industry plays an important role in publicizing and attracting people from all around the world to help in the protection of these last wild habitats.
The second point is a challenge for the tourism industry. You can see large investors come in, and they want to put millions and millions of dollars in their investment. But their view is to clear the forest, replace it with cement, put animals in cages or safari parks, so people can come and see the animals up-close, take photos, sleep in five-star hotels, play golf, go to swimming pool and leave. So, there is no interaction between nature and people in that type of tourism. We are always fighting against those big developments. A new Mega City is now being planned that will destroy mangroves, wetlands, melaleuca forests, dense evergreen forest of the Cardamom Rainforest Landscape in its coastal section to be replaced with dozens of golf courses, five-star hotels, condos. We're in the midst of that battle.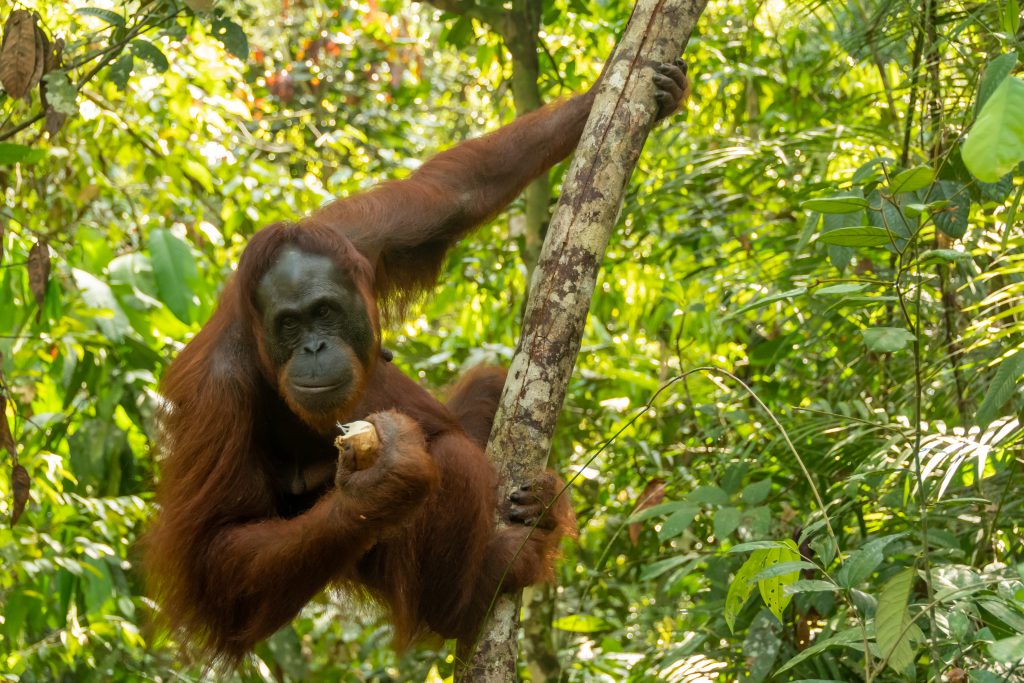 Another aspect of tourism, ecotourism – a very popular style of travelling that is very popular in Southeast Asian destinations – also presents some problems. We have noticed many locations that are very attractive, where you can go and live under the thatched roof or in bamboo bungalows with low use of electricity, solar energy, recycled water, so they are very environmentally friendly. However, these facilities often exist in a vacuum. When tourists want to go for a trek in the rainforest or want to go photographing birds in the wetlands, there aren't any. There is no nature left. The ecotourism lodges by themselves are very natural and attractive but their natural environment is missing. That's why our project, the Cardamom Tented Camp, in the heart of the Cardamom mountains, is so popular because not only is it ecological, it has solar, it recycles, it doesn't have air-conditioners, but you can take a trek for several days in the rainforest. You can see wild animals; you can go along the river and not see any human populations. So, our lesson learned is that true ecotourism that truly benefits both tourism and nature is where there is a wonderful unity between a facility that's ecologically correct and its natural environment where tourism serves the purpose of conservation. People come from all over the world, and they can visit nature. And they understand the purpose of nature. Also, their revenues go to supporting ranger protection, which will be my last point.
One aspect that's not very well understood in the tourism industry is that they think it's enough to give jobs to local people, for them to stop dangerous practices such as logging, poaching and burning the forest. Based on our experience, it is not reality. Reality is, in addition to giving jobs which is essential, you still need the rangers doing law enforcement. And you need to support those rangers financially with food, with salaries, with life insurance, with equipment, so they can stop the illegal activities and protect the nature that tourists are coming to see. For example, there's one village called Chi-Phat where Wildlife Alliance has worked with the community for the last 10 years to develop successful Community-Based Ecotourism (CBET) It is community-led and today, ecotourism revenues are good, benefiting 350 families who provide hospitality and nature guiding services to visitors from all over the world. However, the Chi-Phat families were still going into the forest to cut the trees, put traps to catch the wild animals, and burn patches of jungle to grab land. If we had not created ranger teams in the area to actively protect the ecosystem through law enforcement, the tourists today would be coming to see burnt forest and no more wildlife. It's really the marriage that has to happen between the ecotourism activities and wildlife law enforcement.
Q: Moving forward, how can we encourage various tourism industry actors to participate actively in habitat actions, and perhaps come up with more initiatives like the Cardamom Tented Camp?
Suwanna: I would say that the foundation is through partnership. Wildlife Alliance has partnered with Minor International and Yaana Ventures; so, it's a tripartite alliance. We bring the forest land and its protection; they bring investment and tourism management. So, I would encourage others to do the same, to partner with their local conservation NGOs, to make sure that some revenues from the lodges are there to support the law enforcement of the rangers. It's a self-interest action because if they do that, they will be conserving the wild populations and nature around their lodges. So, it's a win-win situation. It's a bit costly in the beginning because you have to put out the money to protect. But after the reputation of the lodges are established, you have more people coming than you can even welcome. Hence, it's really good for the bottom line.
I think it might go against a preconceived business model where you build the lodge, and that's already a big cost. Supporting ranger protection around the lodge is more expensive, and it's not usually integrated into the business plan. That's why the business plan should be five years. And the ranger protection cost needs to be integrated into that five-year plan, also taking into consideration the return on investment that will not happen if wild populations of rare and endangered species become extinct. In the Cardamom camp, you can see species that you can't see anywhere else like fishing cats, gibbons and exotic storks coming from Tonle Sap. You can actually see them because the rangers are protecting the land and the habitat.
Q: In one sentence, how would you envision the future of tourism after COVID-19?
Suwanna: For me, tourism provides individuals with the highest expression of the soul's freedom, which is exploring the Earth's beauty and experiencing the diversity of human cultures. If, in the future, we are deprived of tourism travel – due to pandemics or natural  catastrophes – this will lessen the essence of our freedom and will clip the wings of our souls. I hope this does not happen.